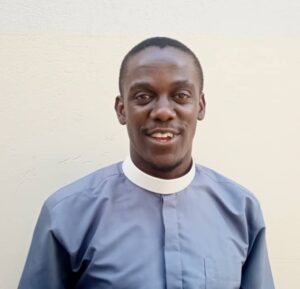 Rev. Mukaddeayigga Misuseera, is an ordained minister within the Church of Uganda, Diocese of Kampala. He was born and raised in Kiwuliriza-Kisugu Namuwongo a Kampala suburb; to the late Samuel and Imelda Ssekyonda.
He was baptised and confirmed at St. Paul's COU, Kiwuliriza and came to faith in Jesus Christ on Maundy Thursday 1998 at St. Paul's COU, Kiwuliriza. Given the strong Roman Catholic heritage from the maternal family, he grew up partly practicing the Roman Catholic faith until 2004 at a youth conference at St. Paul's COU, Okuvu-Kinawataka when he recommitted his life to Jesus Christ. Since then, empowered by the Holy Spirit, Misuseera has been pursuing Christ Jesus and helping many find salvation in Him.
Misuseera went to Kiwuliriza COU Primary School, Kisugu Central P/S and Uganda Martyrs' S.S Namugongo. He holds a BSc. Food Science and Technology degree of Makerere University Kampala and a Master of Divinity from Uganda Christian University Mukono. He has been through a number of short courses and trainings in Leadership, Evangelism and Biblical Discipleship by the African Leadership Foundation, Navigators Uganda/Africa and Alpha International. He has attended two leadership conferences organised by Alpha International and Holy Trinity Brompton (Htb).
Prior to joining the ministry vocation, Misuseera worked with a number of Food Companies focusing on Product Development and also as a Graduate Assistant at the Food Technology Business Incubation Centre with a bias in Food Microbiology and Food Biotechnology.
Misuseera joined full-time Christian ministry in 2014 serving with Alpha Uganda at the Provincial Secretariat and later on with African Evangelistic Enterprises (AEE) in the Missions Preservation office. He has served as Children's Church teacher, Youth leader and Missions Coordinator at Kiwuliriza COU Parish, Alpha Course Administrator and Cell leader at St. Francis Chapel Makerere and currently sits on the board of Excellent Youth Outreach-Uganda as well as a member of the Church Partnership Committee of Kiwuliriza Child Development Centre (A Compassion-International assisted project). He is currently on the clergy team at All Saints Cathedral Kampala since January 1st 2022.
He is married to Martha since May 7 th 2016 and God has blessed them with two wonderful daughters; Peniel and Bethel.
Rev. Misuseera's vision is to see every person experiencing the Salvation that God offers in Christ Jesus hence his passion for Evangelism, Discipleship and Biblical Preaching and Teaching.
Comments
comments