Source: anglicannews.org
[ACNS] Anglicans around the world have engaged in a range of activities to mark the 16-days of Activism to end gender-based violence, which came to an end on Saturday (10 December). One of the initiatives was an online webinar hosted by the Anglican Alliance and the International Anglican Women's Network (IAWN). The webinar – a discussion about how churches worldwide are tackling gender-based violence and speaking out for gender justice – is now available to watch as a video.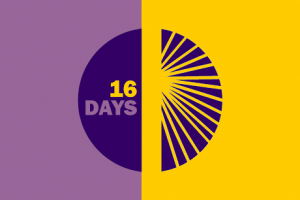 Chaired by the Revd Rachel Carnegie, the co-executive director of the Anglican Alliance, the webinar included a range of speakers from around the world.
Amongst the speakers was Peter Grant, the director of Restored, an international Christian alliance working to transform relationships and end violence against women, spoke about the "First Man Standing" project which engages men in conversations around gender-based violence and aims to redefine concepts of masculinity.
"As Christians, it is important to reflect on that model of masculinity given by the media and compare it to Jesus. . .", he said. "One of my first pleas to all of us is to reinstate Jesus as our model of masculinity, rather than those that we see so often in our media."
The deputy head of the Latin America and Caribbean division at Christian Aid, Mara Manzoni Luz, spoke about the link between gender-based violence and high levels of inequality.
The chairperson of Hope Africa, the Revd Canon Dr Vicentia Kgabe, Rector of the College of the Transfiguration in the Anglican Church of Southern Africa, said that churches can play an "essential role" in providing a safe space for survivors of gender-based violence. "We need to equip our clergy with the necessary tools and knowledge for them to be in a better position to care," she said.
The director for women in church and society at the Anglican Communion Office, the Revd Terrie Robinson, concluded the presentation by celebrating the work done by churches worldwide in tackling gender-based violence.
"We need to work to transform damaging behaviours and attitudes, in individuals, in communities and in leadership structures," she said. "And we can do that transformative work better if we work together."
Comments
comments