A group of bankers from Kampala have paid a courtesy visit to the Archbishop at All Saints' Cathedral, Kampala on Tuesday April 27, 2021. Led by their former colleague Ms. Vivian Igundura; who is also the ACP chairperson, the team appreciated the Archbishop for steering the Church during the most difficult time of Covid-19 lockdown.
The team presented a cheque worth Shs. 12 Million and a he-goat in offertory and appreciating the Archbishop for the work well done in the Diocese of Kampala.
While presenting the team to the archbishop, Ms. Igundura applauded the team for remaining focused and being visionary at their different work places. "Your Grace, this team is from the banking industry in Uganda. We formed a forum that supports each other in many things. They are here to support us in building the cathedral," she said.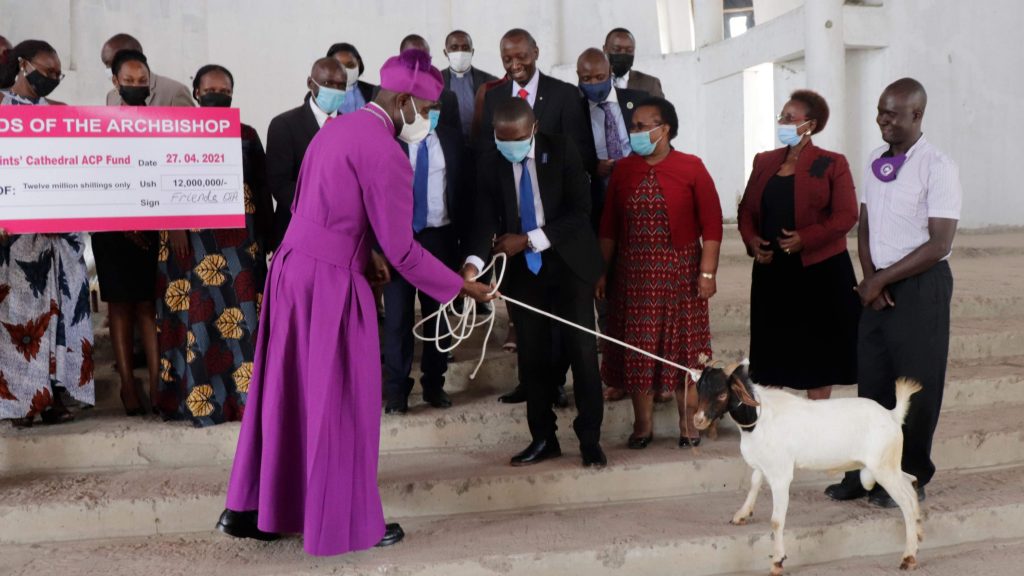 The Archbishop appreciated Ms. Igundura for being visionary and for making friends with purpose. "Thank you my sister Vivian for being a vision bearer; now you need vision supporter and vision implementers," Archbishop Kaziimba said.
Addressing the team, the Archbishop thanked them for the spirit of worship and supporting God's ministry in different ways. "God has kept us alive for a reason. We are not better than those He has called home, but these are some of the reasons probably we are still here. We must worship God with our work; that is what He deserves," he added.
The Archbishop said there is no better way to worship God than using what He has given us. "I am impressed by your teamwork. This shows that you know whom you are serving. There is no better way to tap God's blessings than serving Him," the Archbishop added.
He told them that as the Diocese of Kampala celebrates 50 years, the cathedral will be officially commissioned and opened for use.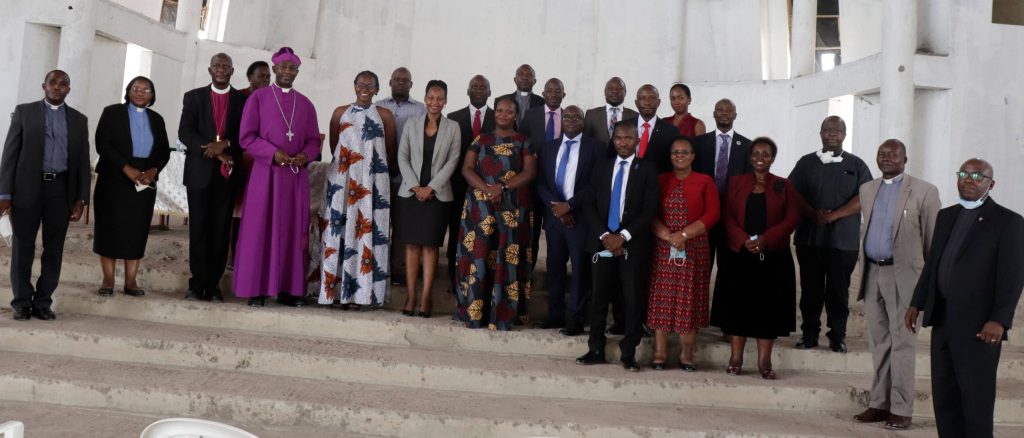 Mr. William Sekabembe, the DFCU Bank Executive Director, thanked Ms. Igundura for grooming and nurturing them while she worked in the banking sector. He pledged more support on behalf of the team for the service of God.
"We are encouraged as a business community to keep in fellowship with one another because God has really been so good to us both at an individual level, but also as a team," Sekabembe said.
The meeting was attended by the Assistant Bishop, Rt. Rev. Dr. Hannington Mutebi; the Diocesan Secretary, Rev Canon John Awodi; Provost, All Saints' Cathedral, Kampala, The Very Rev Canon Dr. Rebecca Nyegenye; the head of clergy in the Diocese of Kampala, Rev. Canon Geoffrey Byarugaba; Archdeacons, Rev Canon Fredrick Baalwa and Rev Canon Michael Mukhwana.
Comments
comments