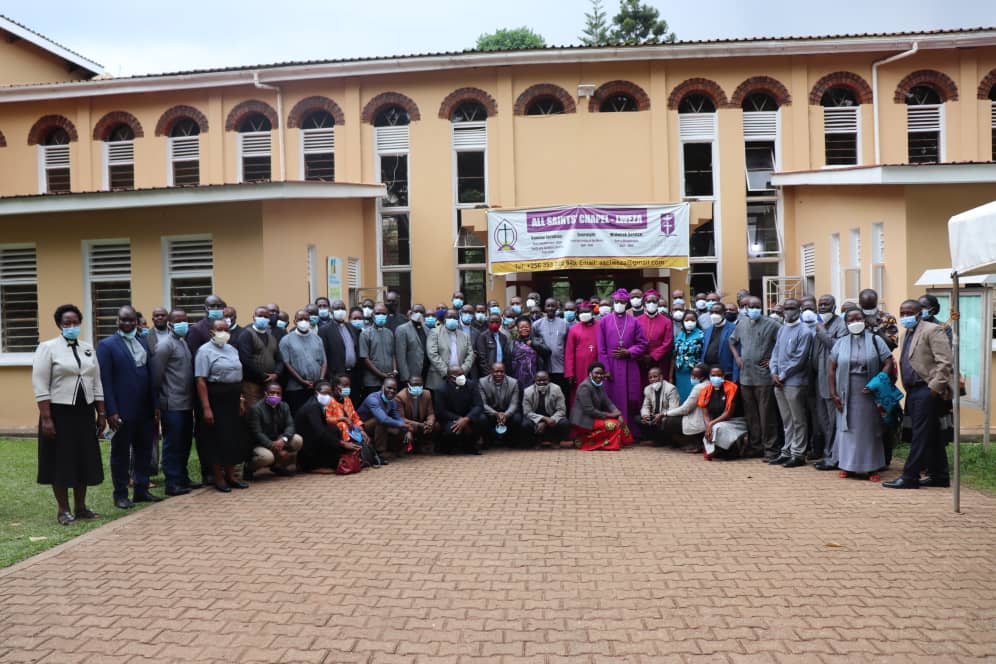 Thursday, March 18, 2021- the clergy from the entire Diocese of Kampala have gathered at Lweza Conference and Training Centre for a two day retreat to reflect on the ministry amidst Covid-19.
Under the theme; Renewal and Unity in the Ministry, the Archbishop of the Church of Uganda who is also the Bishop of Diocese of Kampala, His Grace Dr. Samuel Stephen Kaziimba Mugalu, encouraged the clergy to remain united if they are to conquer the enemy.
"God has called us at time of challenges such as Politics, Covid -19, financial constraints, among others but our unity is a testimony to the world. The Archbishop emphasized, "We need each other for encouragement, prayer and growth."
In his remarks, the Archbishop called upon each individual clergy to seriously value mentorship by having someone to walk with the journey of salvation. On this note he posed a rhetorical question, "Who is your mentor/ pastor?"
In his homily, the Assistant Bishop, Diocese of Kampala, Rt. Rev. Dr. Hannington Mutebi challenged clergy to have faith in the Lord in order to serve Him faithfully. While reading from John 21:1-14, Bishop Mutebi pointed out that faith in Jesus Christ should lead the clergy to effective service.
He added that as a team to be renewed, there is need for individual repentance; a process that starts at the cross of Jesus. "My brothers and sisters, we can't boast that we are good. Good people cannot serve Jesus, it's only the forgiven sinners like you and I, who repent that can serve Him" bishop Mutebi said.
Quoting verse 6 of John 21, Bishop added that obedience is a good virtue in service. He noted that however much the disciples were experienced fishermen, they had not caught any fish but when they obeyed the Lord, He provided so much that they could not lift their nets.
More to that, he implored the team to always desire to have fellowship with Christ and also with each other.
On the other hand, the theme expositor, The Rt. Rev. Dr. Joel Obetia urged the clergy to live lives worthy the calling because God called them to be humble, patient and gentle. Bishop added that the church thrives on renewal, revival, redeem and reform. He therefore called upon the pastors never to leave the pulpit for developmental projects of the church but to instead build people and people will build the church and other projects.
The retreat is the first of its kind under the leadership of Archbishop Kaziimba since he was enthroned as the eighth Bishop of the Diocese of Kampala. It commenced on Thursday, 18th March and will end on Friday 19th March, 2021.
Speakers of this retreat include, Archbishop Kaziimba, Bishop Mutebi, Bishop Obetia, Lay Canon Kedrace Turyagyenda and Mr. Sam Bakutana.
Comments
comments