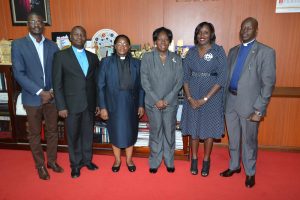 The Provost, Rev Canon Dr. Rebecca Nyegenye, encouraged Speaker of Parliament, Rt. Hon. Rebecca Kadaga, to trust in the Lord as her fortress rock.
The Clergy made the remarks on Friday 24 2019 when they had gone to pray and administer Holy Communion to Speaker Kadaga after the latter recovered from sickness recently.
During the pastoral visit, Dr. Nyegenye read from 2Samuel 22:1-8, and asked Kadaga to always look up to God as her hiding place.
A jovial Kadaga welcomed the Holy Communion gesture and was thankful for the ceaseless prayers from the clergy.
Coincidentally, this happened on Kadaga's birthday.
The Provost was accompanied by the Assistant Provost, Rev Captain David Serunjoji, Rev Moses Ahimbisibwe- Missions and Evangelism, Ivan Naijuka- Communications Officer and Ms. Kitty Viola Swaran an Assistant Warden.
Comments
comments