Source: anglicannews.org
We are home and I am looking back on a testing but wonderful few days in Sudan and Uganda.
The final day was spent at two refugee camps in Northern Uganda – Belameling and Mirieyi – which host more than 200,000 refugees, almost entirely South Sudanese. The number of South Sudanese refugees in Uganda has now reached the million mark. We met people who had literally run for their lives, fleeing across the border with just the clothes they stood up in.
Bishop Anthony Poggo, who accompanied us on the visit, is South Sudanese and was a bishop in Kajo Keji for ten years. His diocese is now almost completely deserted. As we left he recognised several of the clergy and diocesan staff who now live in the camps. This included a man he'd known from back home. He used to produce a programme on the diocesan radio station taking prayer requests when people phoned in, and now lives in Moyo.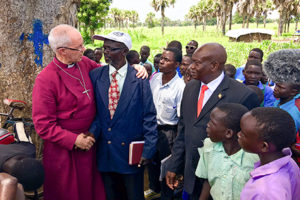 We were accompanied by Archbishop Stanley Ntagali, the Primate of Uganda. We spent a lot of time reflecting on the plight of these refugees and the generosity with which Uganda has embraced them at tremendous cost to themselves. They receive help from UNHCR, World Food Programme, DiFD and many others, but even with help, their open-heartedness is extraordinary, and challenging to the whole world.
I am left wondering whether the cause of this crisis can be resolved. Is it possible for peace to be achieved in South Sudan? This question formed the basis of my meetings with President Museveni and with Mrs Rebecca Garang, wife of the late Dr John Garang. Truthfully I don't know the answer but we are disciples of Jesus Christ, the resurrected one, the Lord of hope and reconciliation. I have committed to do two things:
First, pray and advocate.
Second, do all I can to strengthen the church as a force for reconciliation in South Sudan. Women have a central role in bringing about reconciliation in communities, and my wife Caroline and my Advisor for Reconciliation Sarah Snyder are hoping to visit South Sudan in the autumn to explore what can be done to support them.
So please join me in praying for an end to suffering. Pray that the efforts of the international community, the leaders of neighbouring African countries and the African Union find a way to bring about peace. And pray for the Spirit of God to be healing those who suffer the most.
Comments
comments