The meeting scheduled for next month in Canterbury is for the Primates from the 39 provinces.
But Most Rev Nicholas Okoh Primate of All Nigeria has refused to attend because of what he deems as a lack of progress on the issue of sexuality.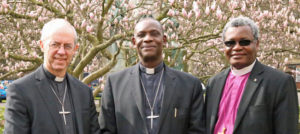 The last meeting of its kind was in January 2016 where there was much disagreement about the Church's view on sexuality.
Archbishop Josiah disagrees with the primate's stance.
He told Premier: "At their meeting in January 2016 the Primates agreed to walk together.
"The primate of Nigeria was present at that meeting. In effect, he is now reneging on this decision which is very sad.
"However the door remains open and he would be very welcome to attend next month's Primates' meeting."
In that meeting the US Episcopal Church was suspended from full membership in the Anglican Communion because of its decision to allow clergy to conduct gay marriages.
Critics claim that the punishment hasn't changed anything.
In a letter to members of the conservative Anglican group, GAFCON, Archbishop Nicholas claimed that the meeting didn't respect or "preserve the integrity of the Anglican faith".
He added that nothing has changed since the Church's sexuality discussions started in 2008 and that attending next month's primate meeting would encourage "a pattern of behaviour which is allowing great damage to be done to global Anglican witness and unity".