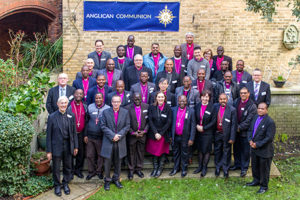 A group of 33 recently-appointed bishops is spending a week at Canterbury Cathedral – the Anglican Communion's mother church – as part of a global induction programme. They are taking part in the new bishops course, which happens every February. It provides an opportunity for newly appointed bishops from around the world to meet each other for fellowship, prayer and learning. Today they are in London, visiting the Anglican Communion Office in Notting Hill this morning, and Lambeth Palace, the London home and offices of the Archbishop of Canterbury, this afternoon.
The bishops are from 16 Anglican provinces and 17 different countries: Australia, Bangladesh, Brazil, Burundi, Canada, Democratic Republic of Congo, Ghana, Kenya, Korea, Malaysia, Mozambique, New Zealand, Pakistan, Papua New Guinea, South Africa, South Sudan, and Tanzania.
This morning, the new bishops heard about how the Anglican Communion Office, and its directors and staff, work to support the mission and ministry of Anglican churches throughout the world in work mandated by the Anglican Consultative Council. Its departments include mission, women in church and society, ecumenism, and communications. It also has a representative at the United Nations. The new bishops also heard about plans for the Lambeth Conference of Anglican Bishops in 2020 and the work of the Anglican Alliance, which helps to co-ordinate the work of Anglican development agencies around the world.
Comments
comments