Source: anglicannews.org
Essential Christian, a charity that resources and inspires Christians and local churches through events, holidays, books, music and professional services, has announced a new partnership with Mercy Ships. Staffed almost entirely by volunteers, Mercy Ships' state-of-the-art "floating hospital" provides free medical care and surgery to people in some of the poorest countries in the world.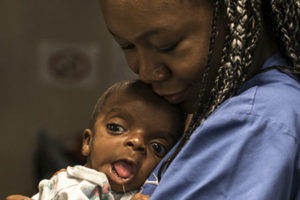 As well as completing thousands of urgent operations on board, volunteers also work closely with host nations to improve the way healthcare is delivered across the country – by training local medical staff, and renovating hospitals and clinics.
Mercy Ships will be the official charity partner for Spring Harvest 2018 and 2019, an annual Christian teaching event and family conference in Britain.
As part of the partnership, members of the Spring Harvest leadership team will visit the ship, the Africa Mercy, in January 2018 while it is serving the people of Cameroon. Mercy Ships and the Spring Harvest team will then come together at the Easter event in 2018 to tell the stories of lives being transformed in Africa and how the church in Britain can get involved.
Group Chief Executive at Essential Christian, Peter Martin, said: "We have been greatly impressed at the way Mercy Ships is channeling the skills and talents of ordinary Christians into front-line service – and always in partnership with the local church. This fits closely with our own vision for the transformation of lives and communities."
Lea Milligan, Executive Director at Mercy Ships UK, said: "We are delighted to announce this partnership with Spring Harvest and Essential Christian. Their passion to serve the local church and encourage Christians to put their faith into action is hugely inspiring, and fits perfectly with our mission at Mercy Ships. Through even the smallest deed we can effect real, lasting change – be it here in the UK or in Africa, where our volunteers are currently serving."
Comments
comments