Source: anglicannews.org
[ACNS, by Terrie Robinson] After weeks of preparation, Anglicans around the Communion are getting involved in prayer, reflection and action for the 16 Days of Activism against gender-based violence. The 16 Days of Activism campaign runs from today (25 November), the International Day for the Elimination of Violence against Women, and runs to Human Rights Day on 10 December. The annual campaign sprang from the first Women's Global Leadership Institute in 1991.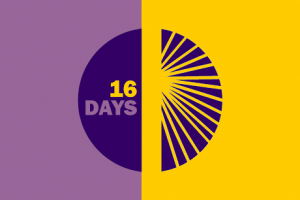 Among many initiatives globally, in the Province of L'Eglise Anglicane au Rwanda (the Anglican Church of Rwanda), 200 students are travelling from the Church's 11 dioceses for a conference in Kigali to explore the role of youth in tackling gender-based violence and ending HIV.
In the united Church of North India's Kolkata diocese, Bishop Ashoke Biswas has joined other church leaders in writing a letter that will be read out in churches during services on 27 November. The letter recognises that "there are women in our congregations who are suffering violence . . . We want to categorically say that violence against women is incompatible with the teaching of Jesus and is incompatible with the life of a disciple of Christ.
"Violence against women is sin and destroys the relationship God intends between men and women."
The women's coordinating committee of the Diocese of Jerusalem in the Episcopal Church in Jerusalem & the Middle East is today (Friday) running a workshop in Jordan for young people on ending violence against women. Young women and men from the eight Episcopal Churches in Jordan, along with teachers from Episcopal schools are taking part in the workshop, 'An Invitation for Peace, an Invitation for Love'.
The Scottish Episcopal Church and Christian Aid Scotland will be launching their 'Approaching Gender Justice' project on 30 November in Edinburgh. The project will roll out a new resource 'Loving One Another: A biblical discussion toolkit on gender-based violence' which will be used in churches and in ecumenical settings. The material is based on similar material from the Anglican Church in Brazil which has been tried and tested in that country.
Special services and vigils will be taking place around the world during the 16 Days. In the Church of Ireland, the Mothers' Union is holding prayer vigils tomorrow (Saturday) in cathedrals and churches in all twelve dioceses. And in the diocese of Melbourne, in the Anglican Church of Australia, an ecumenical service 'Holding the Light' will be held on 4 December at St Peter's, Eastern Hill, to remember victims and survivors of domestic violence.
Internationally, the steering group of the International Anglican Women's Network (IAWN) chaired by South African Pumla Titus has issued a statement for the 16 Days focusing on safe education for girls. According to the statement, 15 million girls are unlikely to set foot inside a classroom. In a plea, they say: "from peace in the home to peace in the world – make education safe for all!".
They say: "Many of those who are able to access education are subject to harassment, discrimination, and assault. Education plays a vital role in helping women and girls realise their potential – economically, politically, and socially. In denying safe education to so many girls, we are denying them the opportunity to reach their full, God-given potential."
The statement urges Anglican churches to act against school-related gender-based violence. "We long to see all Anglicans fully aware of the transformative work needed to ensure that all girls and boys, women and men are empowered to live and work in relationships that reflect Christian values of love, dignity, and justice."
IAWN and the Anglican Alliance are jointly offering a webinar for the 16 Days at 2.00 pm to 3.00 pm GMT next Thursday (1 December). A panel of speakers from the UK, Rwanda, Brazil and South Africa which will explore how churches are tackling gender-based violence. Participants in the webinar will be able to post questions and comments.
An Anglican priest from Kenya has contributed to a 16 Days resource published by the We Will Speak Out coalition against sexual and gender-based violence. The reflection, by the Revd Domnic Misolo in the diocese of Bondo, appears on day three of the Resource for Prayer, Reflection and Action for the 16 Days of Activism under the title "Justice for Women is Justice for Men Too".
According to World Health Organisation research, 35 per cent of women worldwide have experienced either physical and/or sexual violence.
In all societies, to a greater or lesser degree, women and girls are subjected to physical, sexual and psychological abuse that cuts across lines of income, class and culture. Men and boys are also subject to gender-based violence, especially in times of conflict.
Violence against women and girls includes domestic violence – slapping, kicking beating, bullying, coercion, control; sexual assault and harassment; rape – including rape and multiple rape as a tactic of war; trafficking; forced prostitution; harmful traditional practices; acid attacks; so-called "honour" killing; female infanticide because baby boys are more coveted than baby girls; and femicide – the gender-based murder of women.
The Revd Terrie Robinson is the director for women in church and society at the Anglican Communion Office. She commented: "violence against women and girls is a health issue and a development issue. It causes untold misery and diminishes the lives both of victims and perpetrators, and it certainly flies in the face of God-given human dignity. It's an urgent Gospel issue and it's encouraging to see so much going on, so many Anglicans raising awareness and acting to end and prevent gender-based violence – not just during the 16 Days but all year round."
Comments
comments