Merry Christmas and happy New Year! His Grace, The Most Reverend Stanley Ntagali the Archbishop of the Province of the Church of Uganda; and the Bishop of the Diocese of Kampala was the Chief Celebrant on Christmas Day at All Saints Cathedral Nakasero and preacher in the three (3) Services.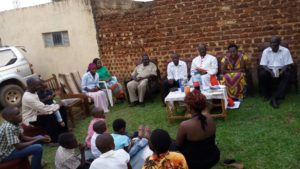 Bishop Ntagali welcomed all the Worshippers and wished them a blessed Christmas and prosperous New Year. He also expressed sympathy to all who had lost their relatives, extended pastoral care to those who were suffering and sick and above all reiterated that even when such circumstances prevail on the Christian; God remains the awesome Lord who provides shelter, care, peace and love to all. In the same vein he thanked the Congregations at All Saints Cathedral for their uncompromised generosity, willingness and commitment to raise Funds for the completion of the New Diocesan Cathedral.
Basing his Sermon on the Theme: 'Born to be King' and drawing references from John 1:1-10 and Isa. 9:2-7 respectively, the Archbishop clearly explained that:
God's coming to us through Jesus Christ demonstrate eternal love [Jn.1:3] – for Jesus illuminated people as prophesized by Isa. 9:2,6. Jesus loved us and lived among us and finally died for our Sins [Jn 1:9]. He still is present till the end of the Age.
Through His death and resurrection, Christians were automatically adopted as children of God – no longer rejected as gentiles but accepted as His children; ceased to be secular but converted to be followers of Christ;
Jesus' birth therefore remains a benchmark and standard of great joy for all the World amidst the World of great fear and anxiety. The Archbishop pointed out that Christians MUST cease every opportunity to know Christ as their Savior and use it productively [Lk. 2:10];
The Archbishop also appealed to the Young people to re-direct their energies and be self-motivating – to take away the redundancy and despair they have and be agents of change in their respective Communities;
He singularly denounced the individualistic tendencies, materialism, corruption, land grabbing, warmongering, sexual immorality, human trafficking and ubiquitous killings which practices are being exhibited by different groups of people in Uganda!
In conclusion, the Diocesan Bishop called upon all the Congregations to accept Jesus Christ their peace and direction; the only one who can usher us in 2017! He urged the Congregations to use God's opportunities availed to them maximally to re-create sustainable peace in their families, places of work and the entire Nation. He wished the Congregations present and the entire Nation a merry Christmas and prosperous New Year.
On behalf of the entire Pastoral Care and Home Ministry that has been preparing the Home Cell Page, we pray that the Peace, Love and Fellowship of Christ reign with you throughout the Christmas Season till the end of the Year.
AMEN
Revd Canon Erisa Grace Sentongo
Priest in Charge: Pastoral Care and Home Cells
Tel. Nos.256 772503180/702 503180
Comments
comments