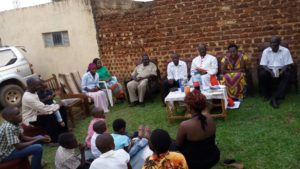 Greetings in the Name of our Lord and Saviour. Mr. Paul Ssepuuya delivered a Sermon to the three (3) ASC Congregations on the Theme 'Positive use of the Media'. He pointed out that Media was one of the seven (7) Mountain Prophecy [ i.e. Government, Education, Economy, Family, Arts and Entertainment]. He also noted that besides the three (3) Estates i.e. Executive, Legislative and Judiciary; the Media was the fourth.
The Preacher explained that Media is a channel of communication which utilizes the word to influence Society [Jn.1:1]. Though Media stands out as a connectivity channel to the World, it is mostly misused and what Media sets as her agenda at times is erroneous picked
as truth! Currently Media is democratized and almost everyone is an expert informer and an emotional black mailer!
The above therefore contradicts God's original Plan of Media which was to 'create, redeem, build and not cause destruction'. The Bible accounts stand out as God's rightful Media use for spreading the Gospel to us. If God had not inspired those Writers, we would
not have had the Good news/Bible.
Referring to Dan. 8:16-26, Mr. Sepuuya outlined several key ways how media can be use:
Worshippers ought to be fluent in the use of the word and desist from mere gossips: the Word should minister grace to the listeners and readers;
Media need to be reproached when erroneous messages are passed on;
Communicators need to know what they are communicating, for what Audience and knowledgeable of the Originator(s) of the messages;
Worshippers need to aware of the wrong agents/ enemy who take advantage of our gullibility!
Worshippers/ Receivers of the message(s) should be cautious of the purposes of the delivered of the media Messages. Receive always what is good news and discard what is bad news.
The Preacher finally cautioned the Worshippers of erroneous use of Social Media – for it leaves a trail that wrong people can use thereafter for their selfish missions! He pointed out that frequency and content of your good messages may determine your employability, partnership and social status.
Guiding Questions and Reflections:
Reflecting on the five (5) key points pointed out by the Preacher, spend reasonable time discussing each of them and attempting to apply them in our day to day lives;
Point out at least five (5) Ways how the Cathedral can enhance the use of Media to reach out to the Worshippers. What can the Cathedral do to unpack them and make them a reality?
Pray for the ASC Media Strategy
Revd. Canon Erisa Grace Sentongo
[Priest in Charge: Home Cells and Pastoral Care]
Tel. Nos. +256 414 342128, +256 77 2503180/702 503180
Emails:allsaintskampala.org/kasawuli2000@gmail.com/kasawuli2000@yahoo.com
Comments
comments