Text: Galatians 2:19-21
The church in Galatia was started by Apostle Paul, but shortly after he left their city, teachers of a false Christianity arrived and confused the believers. The people were being taught that a person had to become a Jew first (get circumcised, observe purification laws, etc.) before coming to Christ. But that is not correct. There never has been something a person can do to make himself acceptable to God. God's forgiveness has always been by God's grace alone. Jesus accomplished it all for us, and we contribute nothing. That is because we are not able to obey, we are law-breakers by nature. All we can do is receive God's free salvation, receive by faith, by trusting His promise.

Apostle Paul says he was crucified with Christ, meaning Paul is spiritually united to Christ (Rom.6:5), so that when Jesus was on the cross, Paul's sin was put upon Jesus (1 Pet.2:24), and Christ's death paid Paul's sin penalty. Paul then says that Christ now lives in him, also because of his union with Christ. And that union provides the grace and power he needs to live as a follower of Christ. This is true for us, as well. We are spiritually united to Christ. By God's grace, we can live as those who are indwelt by Christ. This is the transformed life of grateful obedience to the Lord. Are you united to Christ? Are you living a transformed life?

Meditate on verse 20. How are you going to apply it to your life?

Father, in the name of Jesus Christ, help me die to sin and come alive in Christ Jesus. Amen.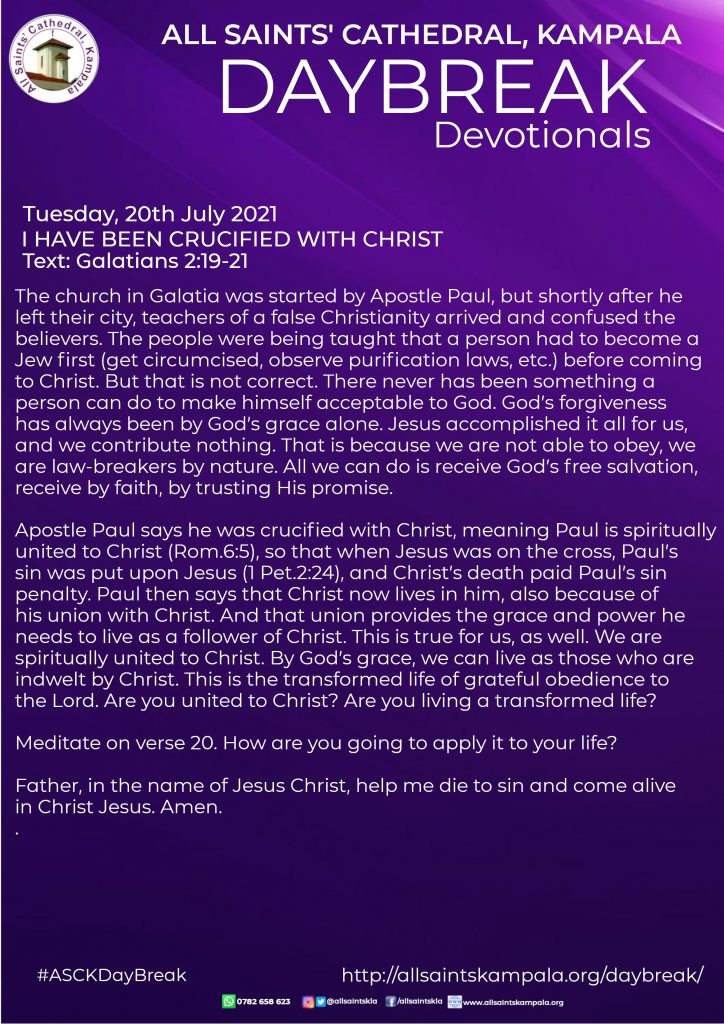 Comments
comments