Text: Revelation 22:14-21
In the beginning of the Bible, we read the sad story of Adam and Eve sinning against God and being removed from the Garden (Gen.3), prevented from eating of the tree of life, and there was nothing they could do to change that. However, God did make the only way to return to Him. We read of that in v.14 of our passage, sinners must have their garments washed by the blood of Christ (Rev.7:14). That means sinners must trust that Jesus died to pay their death penalty. When a person is washed by Christ, he/she may return to the tree of life and eat. That tree symbolizes eternal life, and eating the fruit of the tree represents participation in eternal life.

We all were once forbidden from eating from the tree. But when we trusted in Jesus Christ for cleansing, we know one day we will eat of the tree and enjoy eternal life with God. Be encouraged about this washing.

Because sin is a daily, sad, and frustrating reality, the washing is not a onetime event; it is a continuous offer of cleansing from the Lord. Do not walk with the Lord always afraid but with a joyful heart. When you fail, do not panic. Your salvation is always by grace and never by your deeds.

Lastly, is the tree only symbolic? Or will there be a real tree from which to eat? Scholars disagree, but it is possible there will be a real tree, and the Jesus our Transformer will bring us to it, and we will be welcomed to eat freely. Welcome to the eternal divine feast of the Lamb that was slain, so that you may qualify to attend.

Meditate on verse 14. What is God teaching you in this verse?
Almighty Father, in the name of Jesus Christ, thank You for the blood of Jesus Christ that washed away all my sins. Amen.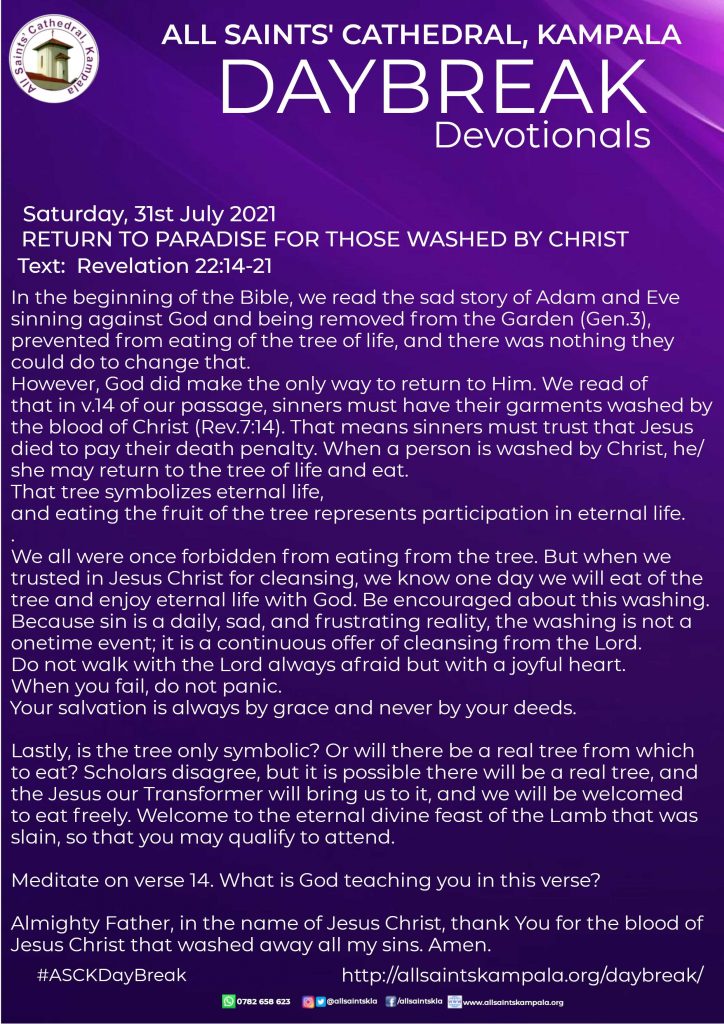 Comments
comments