Text: Philippians 1:1-18
Apostle Paul begins his letter to the Philippian Christians with a very encouraging thought: the work God began in them will be brought to completion by Him. One of the main reasons Paul writes to them is to thank them for their financial assistance to his ministry (4:14). That kind of support is an indicator that they have been transformed by the Lord.

It is nice to receive the money, but Paul is much more excited about the money being "fruit" of their transformation (4:17). They understood the importance of the good message of Christ and of supporting the messenger, so they wanted to partner with him (1:5).

This passage is our last for this month, as we have been considering the theme of the transformed life. Let us finish with 1:6, "And I am sure of this, that he who began a good work in you will bring it to completion at the day
of Jesus Christ." (ESV) How can Paul be sure? It is because God alone is the One who saves, and because God does not change (Mal.3:6; Num.23:19), Paul knows that He will finish the work He started. The transformed life is difficult, and it is contrary to the rest of the world. But the transformed life of being a disciple of Christ is a blessing, and the Lord is working within you (Phil.2:12-13). Persevere. Love the Lord, follow Him closely, and one
day we will enter His joyous presence forever. Thanks be to God!

Meditate on verse 3-4. How are you going to apply them to your life?
Heavenly Father, in the name of Jesus Christ, help me to pray always for my disciples and all Your children. Amen.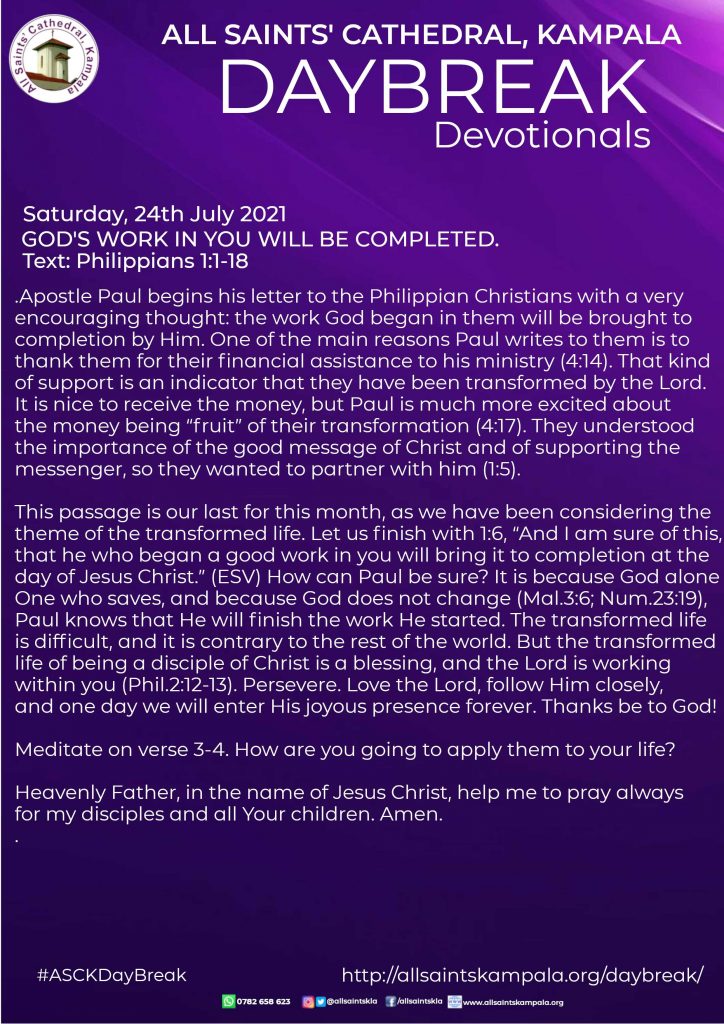 Comments
comments