Text: Ephesians 5:1-21
At the end of the previous chapter Apostle Paul was being very practical with his readers, encouraging them to be kind, tender-hearted, and forgive, even as God forgave them. That explains why Paul begins chapter five by saying, be imitators of God. The way to live the transformed life is to live the way God, Jesus Christ, lived, as we learn about that in Scripture. That is the essence of being a disciple. A disciple is someone who desires and strives to be like the master. We are disciples of Christ, we desire to be like Him, and by the power of the Holy Spirit we are empowered to do that. In particular, we are to walk in love, meaning, live a life of love, as Christ did.

Love considers others as precious and selflessly serves others' wellbeing. That is what Jesus did, and that is how we are to be toward everyone, even our enemies (Mat.5:44-45). It is not easy, of course, but we must live lives of love. Paul says that Jesus gave Himself up for us (v.2). Paul refers to Jesus' death as payment for our sin penalty, so that
we could be brought back to God. For our transformed lives as disciples, in our relations with others, we must die to our natural un-loving ways, and live for the benefit of others.

Meditate on verse 1. How are you going to apply it to your life?
Heavenly Father, in the name of Jesus Christ, help me follow the leading of the Holy Spirit moment by moment. Amen.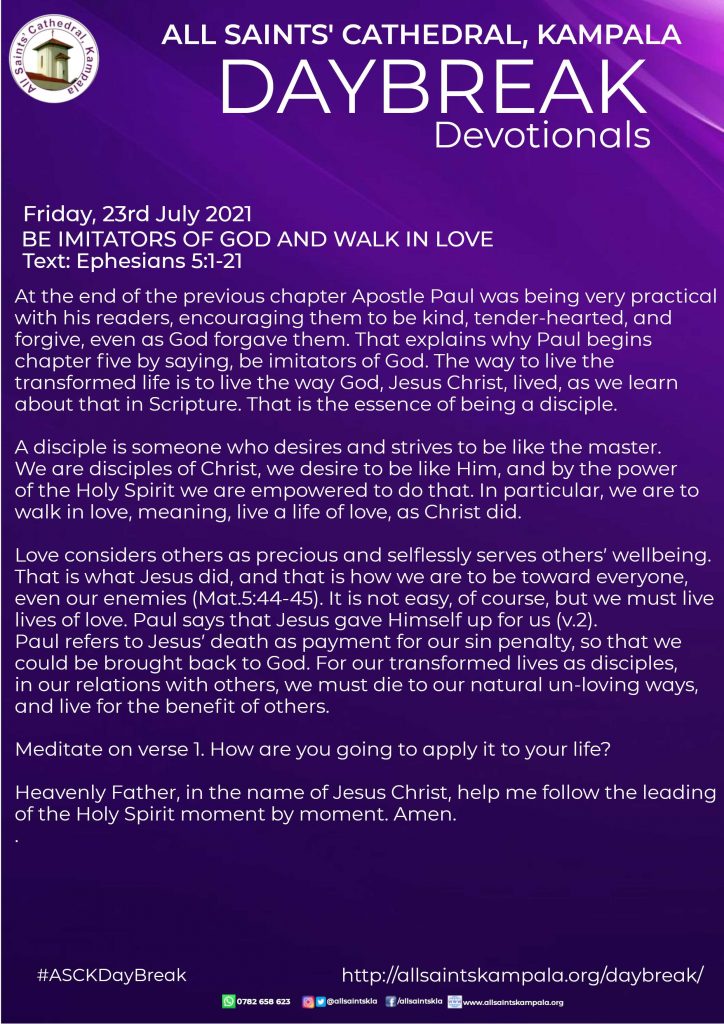 Comments
comments