'Therefore, I urge you, brothers and sisters, in view of God's mercy, to offer your bodies as a living sacrifice, holy and pleasing to God—this is your true and proper worship.' Romans 12:1
Sacrifice: To give up (something important or valued) for the sake of other considerations. Paul urges us to give up our bodies for the sake of other considerations. To give up fleshly urges for greater gain. The beauty of Christian sacrifice is precisely the fact that it is an investment. 'The sufferings (sacrifices) of this present time cannot be compared with the glory that is to be revealed to us.' Our sacrifices are hiccups on the journey to eternal reward. We are to look at sacrifice as bumps and ladders and push us forward.
'No wisdom can be attained without sacrifice' CS Lewis
Sacrifice is a window to Christlikeness. Christ is the Christian model of sacrifice and selflessness because He gave up everything for 'other considerations' (Our reconciliation).
When Paul says,'…offer your bodies…' He means it both literally and symbolically. Our bodies can be our minds, our friendships, our daily pursuits and ambitions, our jobs, basically He means the entirety of who we are.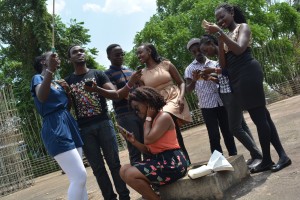 Have you sometimes in the middle of worship ever stopped and wondered if you are being true to God and to yourself? The Apostle Paul says this sacrifice of our bodies and our desires, this non-conformity to worldly standards, that is true and proper worship. That is the worship that is like sweet smelling fragrance to God!
May we resolve to straighten our feeble knees and carry our cross? May we pledge to offer all the sacrifice that is needed to attain the price? May we fix our eyes on the price knowing well that our sacrifice cannot compare to our coming reward.
When in fleshly battle remember Christ was scorned to make this possible. Christ set the pace and perfection is attainable. The coming joy cannot begin to match the present suffering but the coming joy can come only through the present suffering.
As we enter into the celebration of Martyrs Day, may we be humbled by the sacrifice of these who willingly gave up their lives for this truth they had attained, may we be reminded of Christ who went through unimaginable pain, unfathomable demise for the sake of our reconciliation.
Happy Martyrs Day!
Comments
comments