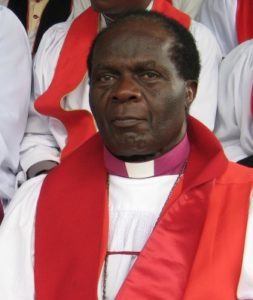 It was with great sorrow that the Cathedral received the sad and heartbreaking news of the passing of our beloved father,  elder, leader, entrepreneur and effective Minister of the Word, Retired Archbishop Dr. Livingstone Mpalanyi Nkoyoyo.
On behalf of the Cathedral, its various Ministries and Fellowships, its staff and on behalf of my dear wife, Peace and our family we extend to you our deepest sympathies on the passing of Retired Archbishop Dr. Livingstone Mpalanyi Nkoyoyo.
Bishop Livingstone was not only towering in stature but also in leadership, business, practical Christian living, development work, care for the elderly & under privileged persons like orphans and as a very effective evangelist who had the knack of turning literally every line in the Bible into a tool for winning souls for Christ! His commitment to doing things for God and His Glory was unequaled! This is exemplified by his dedication to the work at the museum in Namugongo even when he was in poor health.  At our recent visit, as Cathedral Clergy two months ago, he told us his plans for Namugongo and showed us various pictures of what he wanted done in Namugongo.  He even mentioned that he regularly visits the site to check on the progress of the work which to us meant personal supervision of the work!  He even indicated, when requested, that he was also willing to take the pulpit to minister. Infact, the Cathedral had considered him to preach in March this year.
His development work includes pioneering, laying the foundation and setting up Uganda Christian University.
This Cathedral like many parts of this country and the world was touched by his ministry, pastoral work and his exemplary leadership! We remember him for encouraging and leading us to acquire Plots 2 & 6 Lugard Road.  We particularly fondly remember how he helped us expand to our current parking space!  As a congregation we tend to discuss, argue and process things and have an elaborate process for making decisions. On this one morning, the parishioners were surprised to find a grader clearing an overgrown area near the Cathedral. It was the grader driver who told the parishioners that he had been instructed by the Archbishop! He was also a very effective fundraiser who mobilized resources from the congregation for these projects. Indeed, we now own the larger chunk of Lugard Road, thanks to his efforts!
It was amazing that he achieved a whole lot which could have made him proud and yet he was the very epitome of humility as laid out in Luke 18: 9-14 for he was humble and the Lord made him great!
Mama Ruth, as you stated in your 50th wedding anniversary souvenir, May the Lord who has lifted his countenance upon you in adversity and prosperity continue to hold you fast not to grow weary in doing good so that at the proper time, you may harvest eternal life!
It is our prayer that you find comfort and sustenance in the words of St. John 5 v 24 -25:
24 "I tell you the truth, whoever hears my word and believes him who sent me has eternal life and will not be condemned; he has crossed over from death to life.
25 I tell you the truth, a time is coming and has now come when the dead will hear the voice of the Son of God and those who hear will live."
The Very Rev Michael Mukhwana
PROVOST
Comments
comments