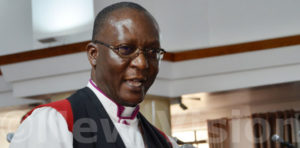 I greet you in the name of our Lord and Saviour Jesus Christ.
On behalf of the Archbishop (Our Diocesan), I would like to extend our gratitude to the Lord for his mercies upon us all in the year 2017. We extend our warm Christmas wishes to the Diocese and friends of this Diocese.
I would like to appreciate you all for the support accorded to the Diocese in meeting its achievements this year. We have concentrated on strengthening the family, as the core ingredient in social transofrmation. We also successfully elected new Church Councils and held our 11th Diocesan Synod. We have realised immense progress in the construction of Our Cathedral and excellent progress of Church House construction, among many other Projects in your Parishes/Congregations. These achievements are because of the team spirit and support from the staff and congregations of the Diocese. For this, I thank you.
In his Christmas message to the rest of the Province, the Archbishop has called for a time of intesive spirutal preparation at the same time as we do our shopping and other preparations.
Using the words of the prophet Isaiah: "For to us a child is born, to us a son is given, and the government shall be upon his shoulder, and his name shall be called Wonderful, Counselor, Mighty God, Everlasting Father, Prince of Peace" (Isaiah 9:6), he has challenged us that 'Now, more than ever, we need this "Prince of Peace" to be our "Wonderful Counselor" and "Everlasting Father" And, for the government to be "upon his shoulder." During this Christmas season, we want to bring the status of the family and society into the hands of God…
Also, remembering that this year has been the year of the Family, we, in a very special way want to commit our families, marrriages and children into the hands of God. May our families be like that of Joseph and Mary, that birthed peace and hope for the world. The
year 2018 will remain year of the Family as the house of Bishops resolved.
In conclusion, I would like to wish you peaceful Christmas celebrations. I commit those travelling to be with family members in different places into the hands of the Lord and implore us all to be advocates for safety. Above all, make the Saviour, born for our hope, the centre of your life.
Yours in Christ's Service
Rt. Rev. Dr. Hannington Mutebi
Assistant Bishop
Comments
comments