[ACNS by Adrian Butcher] Anglicans in Sudan are waiting to hear if they will become a new, separate province of the Communion after a team led by the secretary general visited the country on a fact-finding trip. Currently, Sudan is an internal province with the Anglican Church of South Sudan and Sudan.
Archbishop Josiah Idowu-Fearon said he had a very positive impression of the Church in Sudan.
"The spirituality of the people is very infectious," he said. "I was impressed by the determination of the people to survive and the commitment to their faith. We were very encouraged by what we saw."
Archbishop Josiah was joined by the vice chair of the Anglican Consultative Council (ACC), Canon Margaret Swinson, who was representing the Standing Committee; the Archbishop of Adelaide, the Rt Revd Jeffrey Driver, and the Bishop of Bradford, the Rt Revd Toby Howarth. Archbishop Jeffrey has considerable experience of Sudan and South Sudan. Bishop Toby's diocese has longstanding links to the area.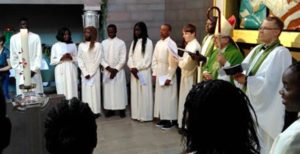 The team were given an official state welcome and met several ministers of state, including the Minister for Federal Government. They also met Archbishop Ezekiel Kondo and bishops from the five dioceses and were briefed on their readiness to form a new province. Subjects included staff numbers, financial viability and mission focus, as well as the numbers of lay workers. The whole team visited the diocese of Khartoum and Archbishop Josiah and Archbishop Jeffrey also went to Port Sudan.
The secretary general described the atmosphere at a service held at the cathedral in Khartoum as "unbelievable" and said that the building was packed. More than 2,000 worshipers gathered for the occasion.
"They were so excited about the possibility of becoming a province," he said. "And I'm encouraged by their attitude to their Muslim neighbours. They accept that they are the minority and they are working hard to be accepted and recognised as Sudanese."
The team went to Sudan at the request of the Primate of South Sudan and Sudan. It will now produce a report on its findings for the ACC's Standing Committee which will decide whether to admit Sudan as the Anglican Communion's 39th Province.