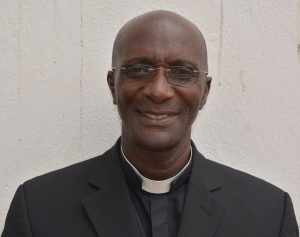 Reverend Canon Erisa Grace Sentongo is a clergy at All Saints' Cathedral, Kampala and a Priest in charge of Home Cells and Pastoral Care.
Recently, in 2017 he spearheaded the founding of the All Saints' Chapel Lweza, a sub Parish of All Saints' Cathedral, Kampala
Canon Sentongo received Jesus Christ as his Lord and Saviour on January 09, 1973 after a powerful sermon by the late Festo Kivengere at Kako Secondary School and since then, he has moved under the able guidance of Jesus Christ amidst different parameters of Christian journey.
Ordained as a Deacon in 1979 and priested in 1980 at Kako Cathedral- West Buganda Diocese. Canon Sentongo worked as a Trainer for both Lay Readers and Clergy in the Diocesan Theological College in West Buganda Diocese, Curate- Kako Cathedral; with series of clerical appointments elsewhere before joining the Province of the church of Uganda.
While at the Province, Canon Sentongo served as the Transport and Human Resource Person under the Planning and Rehabilitation Department (PDRO). Thereafter, he left full time Ministry in the church and served in various Peace and Human Rights Institutions in Uganda as a top executive for a while.
Later, Canon Sentongo was called back in the mainstream church to serve under the diocese of Kampala as a coordinator for planning and social transformation at least for 10 years.
Canon Erisa is a trained Theologian from Uganda Christian University, a Human Resource practitioner from Nkumba University (Master of Human Resource Management), Public Health practitioner from University of Manchester in England, and also holds a Diploma in Peace and Justice from Bossy Ecumenical institute in Geneva Switzerland.
Rev. Sentongo is married to Mrs. Vera Justine Sentongo and God blessed them with four children (two boys and two girls) and now, with seven grandchildren.
Comments
comments