[ACNS, by Gavin Drake] The Primate of Jerusalem and the Middle East, Archbishop Mouneer Anis, has said that the Anglican church in Tripoli is struggling to survive. In a message on the website of the Diocese of Egypt with North Africa and the Horn of Africa, the Archbishop explained that the Church of Christ the King in Tripoli was "struggling to manage and run with the income we receive during divine services."
The country descended into chaos after the 42-year leadership of Col Muammar Gaddafi came to an end in 2011. He was killed in a civil war where opposition forces were supported by Western-military. Despite the formation of a National Transitional Council which gave way to a newly elected parliament, the General National Congress, a power-vacuum followed.
Rival forces battled for control of the country and despite the formation of a UN-backed unity government this year, the country remains riven with divisions and factions. Many areas are under the control of militants, including Daesh.
The Church of Christ the King is a multinational congregation made up of Africans, Asians, Egyptians and Westerners; and held services in Arabic and English.
"We enjoy the Lord among us whose identity can unite us and other people with one vision, ministry and one goal; saving souls and building God's Kingdom in Libya," the church said on its diocesan webpage. "We, by God's grace, have grown with the Lord as well as in ministry through baptism and confirmation classes, marriage courses, encouraging weekly Bible studies, outreach work and evangelism, biblical preaching, encouraging the ministry of the laity and providing pastoral care to all congregations."
The priest at Christ the King, the Revd Ayobami Ayorinda, is leaving for Canada. He is one of several church members who are leaving the country due to job losses or to return to their home. Some are amongst the thousands who are risking their lives to cross the Mediterranean in search of a safer life in Europe.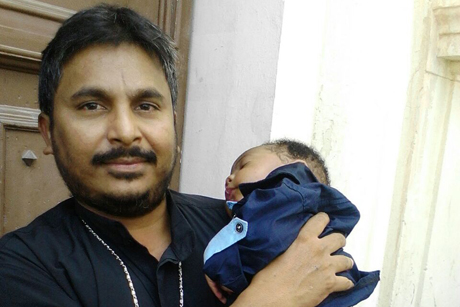 The Revd Ayobami Ayorinda, priest at the Church of Christ the King in Tripoli,
is leaving Libya for Canada with his family.
Photo: Diocese of Egypt with North Africa and the Horn of Africa
"We will never lose hope and keep battling in faith to keep the church alive and more vibrant," Archbishop Mouneer said. "Despite street-looting and insecurity, I managed to visit most of our new church members living in faraway places in order to strengthen their faith in the Lord.
"I trust and hope that the members will increase in number in near future," he said.
In his message he urged supporters to "please pray for the formation of a stable government in Libya."
Comments
comments